DENTURES:

Our lab fabricates acrylic cases with aesthetic cosmetic and comfort. We use long fibers for natural feel, gingival toners for unsurpassed natural look and custom teeth set up for excellent aesthetic
Full Dentures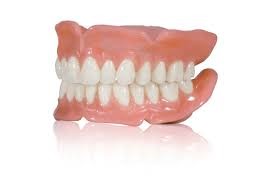 We fabricate the nation's finest aesthetic premium denture teeth by using Lucitone 199 Acrylic. This material gives the full denture a natural texture which simulates gum tissue. Gum contouring, full texturing & palatal ridges that provide a true lifelike appearance. This premium acrylic also offers unsurpassed breakage resistance, and a more precise fit. We are also using an old fashion technique of treating the denture with boiling water to create a more accurate and solid fit.
Partial Dentures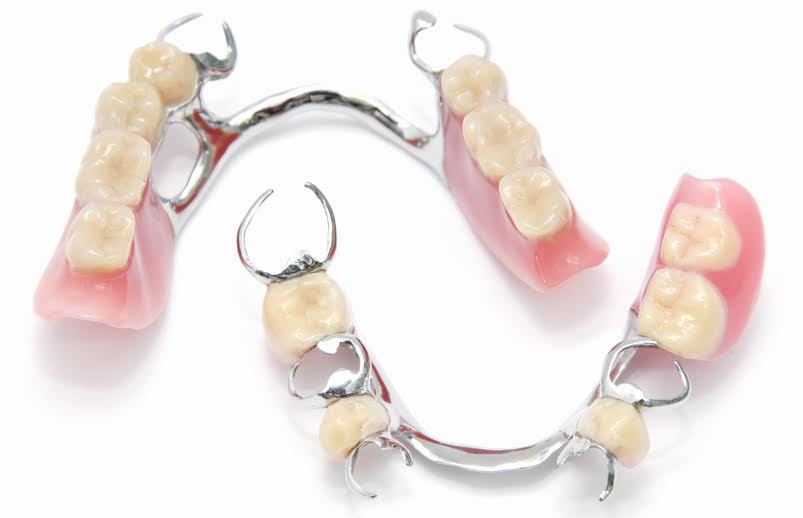 By using Vitallium 2000, we are fabricating the most refined, smooth surface available partials, ones that are easier to adjust, maintain its luster and resist plaque while still maintaining that legendary Vitallium precision fit. Vitallium 2000 Plus is the premium alloy of choice for the Ultimate Partial Denture. A partial denture may have a metal framework and clasps that connect to the teeth, or they can have other connectors that are more natural looking. In some cases, a removable partial denture is made to attach to the natural teeth with devices called precision attachments. Precision attachments are generally more esthetic than clasps.
Valplast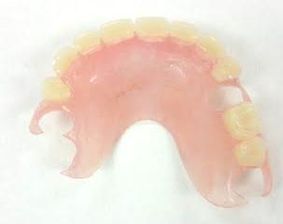 Our lab fabricates a new form of dentures called Valplast®,flexible partial because of its esthetics, durability, and malleability.Valplast is made of a durable thermoplastic nylon material and comes with a lifetime warranty against breakage from the manufacturer

Valplast combo w/ Vitallium2000
Valplast can be fabricated with a cast metal frame, such as Vitallium 2000. With a tensile strength of more than 855 Mpa to enhance fracture resistance, Vitallium 2000 has a Vickers hardness that minimizes abrasion on opposing dentition, and a yield strength of more than 600 Mpa aids in resisting permanent deformation. The combination of Valplast and Vitallium maximizes the physical properties of the partial and makes it a great choice for extended edentulous areas, especially in the lower arch.
Flipper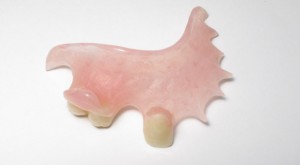 Our lab has fabricated a variety of acrylic denture flipper to replace one or several tooth missing. It can be used as an immediate replacement for an extracted tooth, as an interim replacement while an implant integrates to the bone, or sometimes as a long-term replacement
Nightguard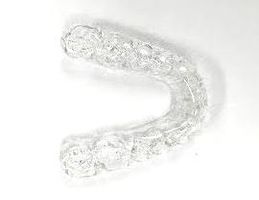 Soft, hard or combo Ultraflex acrylic material are used to fabricate the optimum guard for the patient. Whether it is for sport use or protection against bruxism. All bite guards and night guards are constructed to your occlusal plane specifications on the upper or lower arch